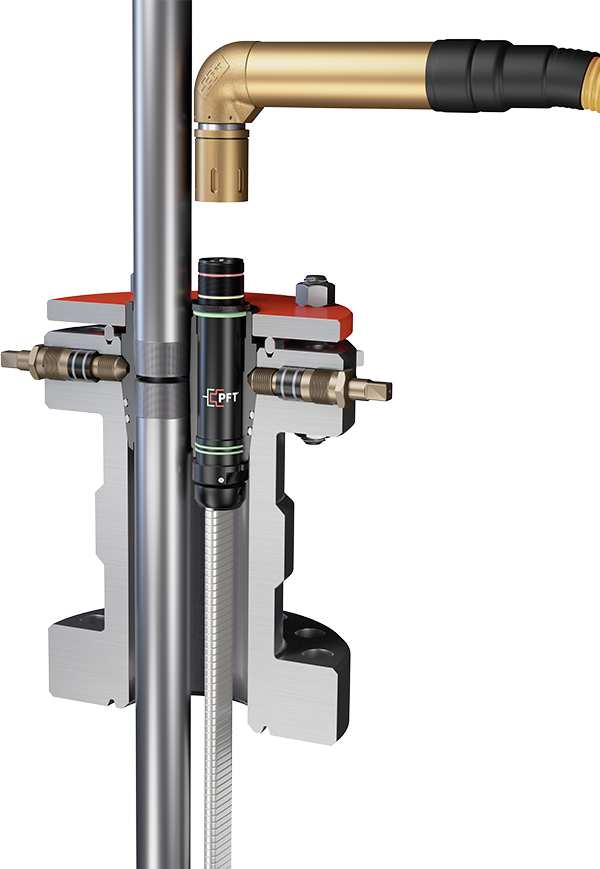 The PFT Gator Feed®* 5K is a robust field-attachable 5,000 psig system. The Gator Feed®* 5K is also commonly used to replace** cable pack-off assemblies. This two-piece feed-thru system combines a lower connector and wellhead penetrator into an integral unit that installs through the bottom of the tubing hanger. The integral design minimizes the length of the unit below the tubing hanger, allowing for installation in short or restricted tubing head bowls. It is held in place with two anti-rotation cap screws on the bottom and a locking nut on the surface.
The Gator Feed®* 5K is supplied as a field-attachable kit or factory-attached to #4, #2 or #1 AWG flat or round cable. It is rated up to 5kV and 205A depending on cable size. The new universal Gator Feed®* shell has a longer thread area, allowing it to mate with PFT's standard surface connector or C1D1 HazLoc (explosion-proof) surface connector.
** A mandrel tubing hanger is required when replacing a cable pack-off
While the matching thread profiles on some PFT components may allow them to be connected to products supplied by other manufacturers, PFT does not advocate or recommend this practice. Mating PFT products with those from other manufacturers violates PFT product warranties, and invalidates any and all safety certifications for that product.