Tri-Gator® LB Wellhead Feed-Thru System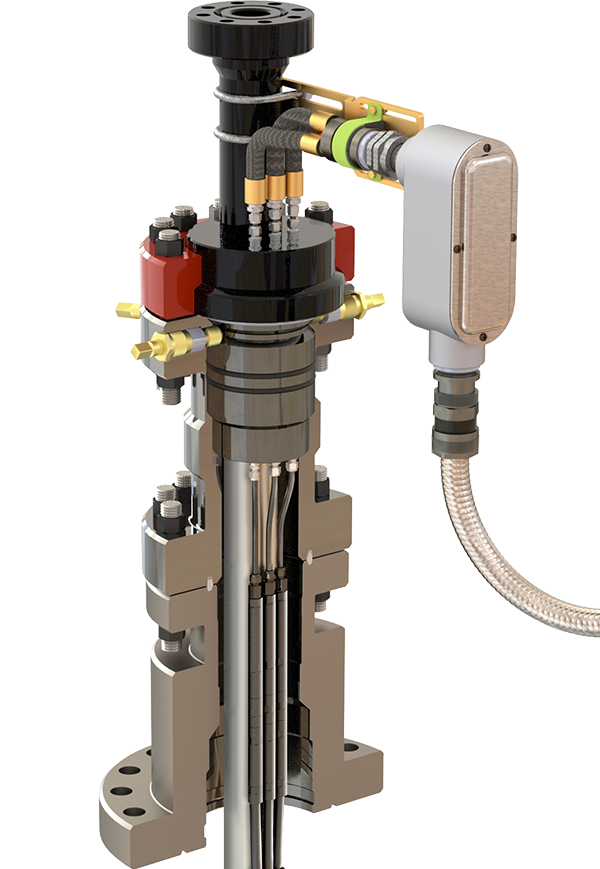 PFT's field-attachable Tri-Gator®* LB Wellhead Feed- Thru System is our innovative answer to the problems encountered with space-constrained wellheads and annular space below the wellhead. The Tri-Gator®* LB Wellhead Feed-Thru System is ideal for concentric wellhead completions, and can retrofit to non-ESP wellheads or existing three-lead wellhead completions. The Tri-Gator®* LB surface junction is fully sealed and can be configured to meet requirements of hazardous location environments.
Connector Body Parts
Components are carbon steel and meet NACE MR0175 specifications. The black finish provides maximum corrosion protection as well as lubrication for the threaded components. Stainless steel components are also available.
Threads
Standard systems come with 1/2″ NPT bushings to thread into wellhead bonnet and hanger. A wide variety of thread types
and diameters can be accommodated by specifying thread dimensions and space-out at the time of order. All crossover bushings are QPQ coated for corrosion protection and anti-galling.
While the matching thread profiles on some PFT components may allow them to be connected to products supplied by other manufacturers, PFT does not advocate or recommend this practice. Mating PFT products with those from other manufacturers violates PFT product warranties, and invalidates any and all safety certifications for that product.